Scientifically known as ectogenesis, the possibility of gestating human life outside the uterus could be a Moment of Truth for abortion activists. Societal implications indeed abound, but the politically correct denizens of our modern culture have wasted no time in staking out their territory, using the quest to create artificial wombs to push their version of equality-cum-identity politics while fretting that wicked social conservatives could seize such a development to deny women their constitutional right to abortion.
The term ectogenesis was coined in 1924 by the British scientist J.B.S. Haldane to describe pregnancy that occurs in an artificial environment from fertilization to birth. Haldane was a well-known and influential science popularizer, sort of a Carl Sagan for his generation. He predicted that by 2074 this method would account for 70 percent of human births. That sounds pretty farfetched, but science-wise we are in fact on our way to realizing at least some of the technology. Here are brief highlights from the road travelled so far.
Emanuel M. Greenberg was a mid-20th-century New York doctor and inventor who sought to solve the problem of premature babies born before their organs were developed enough to sustain them. In the Fifties, he designed plans for an artificial system to keep these preemies alive long enough to survive on their own (though there is no evidence that any attempt was made to build it). Like incubators already in use, Greenberg's invention would keep the baby warm and oxygenated, receiving nutrients and excreting waste. However, a baby placed in his artificial womb would still have a functioning umbilical cord and placenta, now attached to the machine. In 1954 Greenberg filed for a patent for his design, which included a diagram bearing a strong resemblance to a Rube Goldberg cartoon, accompanied by an extensive explanation of how each part of his machine would function. He received the patent the following year.1 It wasn't until 1996, however, that a team at Juntendo University in Tokyo, led by Yoshinori Kuwabara, succeeded in designing and building an advanced incubator, the extra-uterine fetal incubation (EUFI), which they thought would have the potential for eventually aiding the growth of undeveloped newborns. Fourteen goat fetuses, placed in artificial amniotic fluid to mimic the conditions in a mother goat, were sustained for three weeks, but the team ran into several problems and realized their incubator was not ready for human testing. Kuwabara remained hopeful that with improvements it would one day be used for human fetuses.2 Then in 2017 came news that researchers at the Children's Hospital of Philadelphia had developed a "bio-bag," an artificial womb that further improved on conventional incubators. They succeeded in bringing to term lambs delivered by caesarian section at the gestational equivalent of a human fetus at 22 to 24 weeks (lamb gestation is 147 to 151 days); in 2017 one of the lambs had then survived for more than a year.3
There's more. Researchers at Cambridge University announced in 2016 that they had kept a human embryo alive outside the body for 13 days using a mix of nutrients to mimic conditions in the womb; the experiment only stopped because of the 14-day legal limit, ostensibly for "ethical" reasons, on how long a human embryo could be kept in a lab. But if a baby conceived the old-fashioned way can be legally aborted at any time during pregnancy, why be squeamish about sustaining an earlier version? While the 14-day rule, observed in 12 countries, has held so far despite calls to reexamine it following the Cambridge breakthrough, chances are this fastidiousness won't last, and scientists will continue to extend the length of time embryos can be kept alive outside the womb.
Oppressing or Emancipating?
Even accounting for the advancements I have highlighted, pregnancy spent in an artificial environment from fertilization to birth remains a largely theoretical proposition. In fact, Alan Flake, a fetal surgeon at the Children's Hospital of Philadelphia, does not believe technology could ever be used to create and sustain a full pregnancy. Nevertheless, gloomy feminist dystopian scenarios have already begun. Indeed, the mainstream media attention surrounding Children's Hospital of Philadelphia's 2017 success in bringing lambs to term put some decades-old feminist concerns back in the spotlight. Back in 1989, Julien S. Murphy, Professor of Philosophy at the University of Southern Maine, had worried that ". . . there are several ways in which ectogenesis could contribute to women's oppression . . . if it were used to undermine abortion rights, reinforce traditional views of fertility, increase fetal rights in pregnancy . . ."4 Now in 2017, Helen Sedgewick, author of the futuristic novel The Growing Season, wrote about the "frightening" implications of ectogenesis in the Guardian:
There is the danger that whoever pays for the technology behind ectogenesis would have the power to decide how, when and for whose benefit it is used. It could be the state or private insurance companies trying to avoid the unpredictable costs of traditional childbirth.
She also worried that artificial gestation could become yet another advantage available only to the rich, and/or that traditional pregnancy might become "associated with poverty."5 And she presented another "frightening" scenario for us to consider in her Guardian article: that using artificial wombs as an alternative to abortion would lead to "women being forced to have their fetuses extracted and gestated outside their bodies."
The LGBT perspective on ectogenesis has largely been more positive. In a column titled "Feminists get ready: pregnancy and abortion are about to be disrupted," the Guardian's Eleanor Robertson predicted that "[artificial wombs] . . . would serve women, trans women, and male same-sex couples equally without prejudice."6 Aarathi Prasad, a geneticist and senior fellow at the Institute for Global Health in London, agreed, and then continued: "It will [. . .] give men an essential tool to have a child entirely without a woman, should they choose."7 Entirely. Without. A. Woman. Gay men who have carried into adulthood their "No girls allowed" tree-house sign may see that as a worthy goal, but it seems to me that if there are any biased attitudes in play here, it's a bias against women. Is it simply a presumed "right" for gay men or trans women (since someone undergoing a male-to-female sex change just has to freeze his sperm before doing anything drastic, after which the process matches that used by gay men) to live completely without womankind, and a presumed prejudice to question it? Ms. Roberts and Ms. Prasad don't mention female-to-male sex changes when discussing those being rescued by ectogenesis from perceived prejudice, but K.C. Clements notes: "People who experience gender dysphoria may find that these feelings intensify as their body changes to accommodate the pregnancy. The social association of pregnancy with womanhood and femininity can also lead to discomfort."8 The implication seems to be that artificial wombs should serve "equally without prejudice," even if the goal is merely to avoid the humiliation of looking pregnant.
More modestly, last year in the Medical Law Review Elizabeth Chloe Romanis (who, like Alan Flake at the Children's Hospital of Philadelphia, doubts the technology will ever sustain a full pregnancy) wrote: "I envision these AW (artificial womb) devices being most effective in situations where delivery can be managed by caesarean . . ." She also stated that fetal extraction for gestation ex utero ". . . would be a much more invasive procedure than a conventional abortion (drug induced or vacuum/surgical)."9
Operating Costs
Caesarean section, or "C-section," a surgical procedure that delivers a baby through the woman's abdomen, is considered a very safe operation. Nearly one in three women in the U.S. use this method of childbirth, sometimes because normal delivery is a risk to mother or child, but also as an elective procedure, chosen perhaps to avoid the pain or body changes resulting from traditional birth, or simply for scheduling reasons. As Ms. Romanis states, caesarean by definition may be more invasive than drug-induced or vacuum/surgical abortion (although cutting babies up and removing them piece by piece sure sounds invasive for the baby!), but is it any more dangerous than abortion? It's reported that there are 13 deaths per 100,000 caesareans, but serious complications are the result of the underlying cause for the caesarian rather than resulting from the operation itself. As for abortion, as Robert G. Marshall, formerly of the Virginia General Assembly, recently wrote in these pages: "Planned Parenthood has long been one of the chief beneficiaries of (and contributors to) the misinformation about the health risks to the mother of abortion."10
A caesarean section is major abdominal surgery. Despite its frequency, it's nothing to be glib about. But what I find most telling about references to the "invasiveness" of caesareans vis-à-vis abortions is that invasiveness only seems to be cited when discussing the caesarean's role in the use of artificial wombs. When the caesarean is an elective procedure chosen for vanity or convenience, it falls into the politically correct column, but any suggestion that it may play a part in providing an alternative to killing a baby through the use of artificial womb technology arouses hysteria over "women being forced to have their fetuses extracted and gestated outside their bodies."
This type of hand-wringing suggests a victimhood fantasy reminiscent of dime-store bodice-ripping novels featuring sacking Vikings and swooning damsels in distress. At least rape fantasies had an understandable origin, springing from a need to muddle through sex-guilt issues resulting from repression. In today's easy hook-up culture, rape fantasies are probably obsolete. However, perhaps Margaret Atwood's very popular 1985 release The Handmaid's Tale, a dystopian novel (and recent television series) about a totalitarian theocracy that subjugates women and forces them to be breeders for the state, offers a replacement for the old-fashioned rape fantasy that hook-up culture has now annulled. Atwood's book is also a coping mechanism, but instead of dealing with unfair sexual shaming, it supports one of today's feminist dogmas: the "underlying morality of abortion," including the belief that without abortion, available for any reason and no matter how far along she is, womankind is in danger of being reduced to mere livestock. But what are the pearl clutchers really afraid of?
Back to the Future
Imagine sometime in the future when a woman is pregnant and doesn't want to be. She goes to a clinic and is given an option menu to choose from. She may:
Option A. Have an abortion.
Option B. Have the fetus removed and transferred to an artificial womb, then put it up for adoption, with the gestation fee paid for by the adopting couple. Or, reserve that decision for later. Many women are overwhelmed with an unplanned pregnancy and abort in haste. Now she can think it over, and if she decides to keep the baby, she pays the gestation fee, financing available. If not, she signs the adoption papers.
Option C. Sell it. Or donate it. That has a nicer ring to it, and by today's bioethical standards would be legal.
But standards change, especially when "society is trending" in a certain direction (which was part of the Supreme Court's rationale when it decided Roe v. Wade). In other words, if we can presume that enough people will accept something without too much fuss, let's do it. And look how much personal standards have changed since abortion became legal in 1973. At first the attitude toward legalized abortion was, "Thank goodness desperate women no longer have to seek back-alley abortions"; then it became a tacit form of birth control, and now it's a social good and no stigma should be attached to it. Or to killing a baby that survives an abortion. This is clearly what Governor Cuomo of New York State had in mind when in January 2019 he signed the "reform" abortion bill permitting killing throughout pregnancy—and even beyond, since it allows viable babies that survive abortion to be denied care. So who knows how bioethics will be trending when this Future Woman goes to the clinic to end a pregnancy and is handed an options menu. Even today, women can sell their eggs, men can sell their sperm, and we can all sell our blood. So Future Woman may be allowed to sell an embryo or fetus outright, or barter it in exchange for some medical bills, or be beguiled into making a donation as a humanitarian act of "helping science."
The kidneys from a deceased infant only a few days old can be transplanted into an adult. They're very small, so both kidneys are harvested and transplanted, and together they do the work of one kidney. If a days-old infant can be used this way, so might a donated embryo or fetus be implanted in an artificial womb and brought to full term—not with adoption in mind but organ harvesting. But what sort of monsters would we have to be to do such a thing? Considering the disintegrating morality on display with abortion as we know it in our own time, Future Woman's civilization might make Freddie Krueger look like Clara Barton; but let's presume lawyers for a budding organ-harvesting industry will be looking for loopholes to make it palatable to a willfully naïve public.
Anencephaly is a birth defect in which a baby is born without the front part of the brain, the thinking and coordinating part (cerebrum). What is there is often not covered by bones and skin. Almost all babies born with anencephaly die shortly after birth. It is estimated that about one in every 4,600 babies born in the United States has this condition; in most cases, the cause is unknown. There is no cure. Here's the thing: If they ever figure out exactly what causes anencephaly, then they'll have a path to curing it. But that means there will also be a path to making it happen on purpose. And a baby without a brain isn't really a baby at all, is it? So, no moral conflict in using it to help others, right? Right? And it may be an easier process for an artificial womb to accomplish, because the goal wouldn't be a healthy child, with all the related difficulties in achieving that to overcome. Sadly, it won't take ultramodern hi-tech artificial womb machinery and genetic manipulation to spawn a lucrative organ harvesting business; we know that it's been done already in the here and now at Planned Parenthood abortion clinics, as evidenced by infamous videos taken on site. Although Planned Parenthood denied allegations of wrong-doing, and many news outlets echoed its talking points that the undercover videos were deceptively edited or debunked, this was not true. An independent forensics investigation verified that the videos were authentic, witnesses from the abortion industry have admitted under oath that they were "not altered," and the "debunker" Planned Parenthood hired was none other than Fusion GPS, the same folks who brought us the Steele Dossier.11 No, the true value of using artificial wombs combined with gene manipulation to deliberately grow incomplete babies in order to harvest their organs would be as a smokescreen, not unlike using a ridiculously expanded "health of the mother" classification as an excuse for abortion on demand, up to any point, and for any reason.
The Womb or the Tomb?
Now for that "Awkward Moment of Truth." If organ and lung development issues are overcome and a fetus (or who knows, maybe even an embryo) can be successfully removed and transferred to an artificial womb to complete gestation and then be put up for adoption, the legal right to abortion as defined by Roe v. Wade would remain; however, what would be the argument against ending a pregnancy but letting the baby live? Indeed, Hadley Arkes, a pro-life advocate, has argued that a right to abortion doesn't entitle a woman to a dead baby—hence his years-long effort to get the Born Alive Infants Protection Act passed by Congress. Although it was signed by George W. Bush, apparently it lacks regulatory teeth, leading to recent (unsuccessful) congressional efforts— as well as a presidential executive order—to beef up enforcement.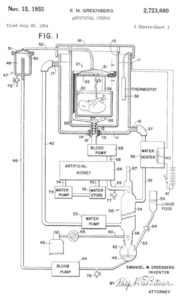 But of course Future Woman will have a choice in the matter. In order for a woman to be "forced"—by conspiratorial "right-wingers" plotting to impose an alternative to abortion—to have a caesarean to remove a fetus without her consent, laws would have to be changed beyond recognition. And if the rejoinder from the hysteria corner is to point to the history of the American eugenics movement and its programs of forced sterilization procedures, then they should bear in mind that a clear eugenics footprint is actually found in today's proabortion activism.
In 1883 Sir Francis Galton, Darwin's cousin, coined the term eugenics, meaning "well-born." The idea was to improve the human race through selective breeding. In America, however, the focus was to eliminate negative "traits" transmitted from generation to generation; for instance, the belief then was that poverty was due to genetics, and therefore sterilization was the cure. In 1907, Indiana passed the first eugenics-based compulsory sterilization law in the world, and thirty U.S. states would follow its lead. The eugenics movement in America, like Planned Parenthood today, received extensive funding from various corporate foundations, including the Carnegie Institution, Rockefeller Foundation, and the Harriman railroad fortune. The prominent feminist Margaret Sanger, leader of the American birth control movement and founder of Planned Parenthood, championed the eugenic agenda. She saw birth control as a way to keep unplanned children from being born to the poor, and incorporated the language of eugenics to advance these measures. Sanger also wanted to discourage the reproduction of those who, in her opinion, would pass on mental disease or physical defects.
Today we have the selective aborting of children with Down syndrome and the permissible dispatch of unwanted babies who manage to survive an aborting attempt. Alas, if Brave New World behavior does rear its ugly head in regard to artificial wombs, it will be because Future Women choose Option C from the clinic menu. And so, although The Handmaid's Tale junkies may swallow the narrative that the result of artificial wombs will be "forcing women," cooler heads will realize that the eugenics legacy lives on today in the pro-abortion gang, not the pro-life movement. Again, what exactly are the pearl clutchers really so afraid of? Is it the possibility of losing the lie that "It's not really about abortion you know, it's about choice"? Is it having to admit that, if a woman can choose to surrender her unwanted baby to a machine that will take over her role, but she demurs, then her "choice" will inescapably be about choosing to kill? In the end, no sacking Viking fantasies or dystopian societies or dictatorial insurance companies. Just herself. And her choices.
NOTES
1. Emmanuel M. Greenberg, Artificial Uterus, 15 November 1955, retrieved 7 May 2018.
2. Yoshinori Kuwabara, Takashi Okai, Yukio Imanishi, Etsuo Muronosono, Shiro Kozuma, Satoru Takeda, Kazunori Baba, Masahiko Mizuno, "Development of Extrauterine Fetal Incubation System Using Extracorporeal Membrane Oxygenator." Artificial Organs. Vol. 11 No.3, pp. 224–22 (June 1987).
3. Alan Flake, "Scientists Create Artificial Womb That Could Help Prematurely Born Babies." NPR.org.
4. Julien S. Murphy, "Is Pregnancy Necessary? Feminist Concerns about Ectogenesis," Hypatia, Vol. 4, No. 3 (Autumn, 1989).
5. Helen Sedgewick, "Artificial Wombs could soon be a reality. What will this mean for women?" The Guardian, Sept. 4, 2017.
6. Eleanor Robertson, "Feminists, get ready: pregnancy and abortion are about to be disrupted," The Guardian, Oct. 12, 2017.
7. Aarathi Prasad, "How artificial wombs will change our ideas of gender, family and equality," The Guardian. May 1, 2017.
8. K. C. Clements, https://www.healthline.com/health/transgender/can-men-get-pregnant#takeaway
9. Elizabeth Chloe Romanis, Medical Law Review, Vol. 8, No. 2 (Dec. 2019)
10. Robert G. Marshall, "Abortion, Women, and Public Health, the Human Life Review, Vol. XLVI, No. 2 (Spring 2020).
11. See stories at National Review Online, July 22, 2016: https://www.nationalreview.com/2016/07/ planned-parenthood-videos-debunking-debunkers/ and Lifesitenews, May 28, 2020
___________________________________________________________________________________
Original Bio:
Diane Moriarty is a freelance writer living in Manhattan.
950 people have visited this page. 1 have visited this page today.
Social Share