Support the Human Life Review
The Human Life Review depends on you.
We are the pro-life journal of reference. The intellectual backbone of the pro-life movement. The journal of record on life issues. We would never boast like that – that's what our friends have said about us!
"In a world of sound bytes, tweets, and texts, the Human Life Review forces you to take a moment to sit down, read, and think…"
–Kristan Hawkins, Executive Director, Students for Life of America
"Every time a Review arrives in its plain brown wrapper, its contents illuminate and electrify.  Like a flash of lightning on a dark night."
–Paul Greenberg, Pulitzer-Prize winning editorial page editor of the Arkansas Democrat-Gazette
We depend entirely on the generosity of our friends. Please become a friend and help support The Human Life Review! All you have to do is click above to make a donation. You do NOT need to be a member of Donorbox. Credit Cards are accepted!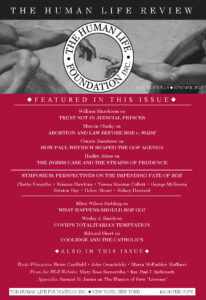 The Human Life Review is published by the Human Life Foundation, an independent, non-sectarian, not-for-profit 501(c)(3) educational and charitable corporation. All contributions to the Human Life Foundation are 100% tax deductible under the Internal Revenue Code. We welcome gifts of securities or other planned gifts. If you would like to discuss a bequest or a planned gift, please contact Maria McFadden Maffucci (maria@humanlifereview.com), or call at 212-685-5210
We also offer books and online subscriptions to the Human Life Review.To make a donation using your credit card over the phone, please call 212-685-5210.
If you prefer to make your gift with a check, please send it to:The Human Life Foundation
271 Madison Avenue, Room 1005
New York, New York 10016
4,659 people have visited this page. 3 have visited this page today.