About the Human Life Review
The Review
Since 1975, The Human Life Review has been the only publication of its kind in the world: an academic-quality journal devoted to civilized discussion of legal, philosophical, medical, scientific, and moral perspectives on all life issues.  We cover  not only abortion but also euthanasia, suicide, neonaticide, genetic engineering, cloning, fetal and embryonic stem cell research and experimentation, and new issues as they emerge.  We also deal with underlying issues of family and society.
Each issue of the Review features original articles and an Appendix of opinion columns. Past contributors of note include: Ronald Reagan, Malcolm Muggeridge, Henry Hyde, Jerome Lejeune, Dr. C. Everett Koop, John Cardinal O'Connor, Richard John Neuhaus, Clare Booth Luce, Elizabeth Fox-Genovese, Harold O. J. Brown, Eugene Ionesco,  and more.
Current contributors of note include Nat Hentoff, Eric Metaxas, John Finnis, Hadley Arkes, Mary Ann Glendon, Ryan Anderson, Anne Hendershott, Timothy Cardinal Dolan, J. Budziszewski, Bill McGurn, Maureen Condic, Alan Sears, Anthony Esolen, and more.
The leading names of today appear regularly in The Review and on our blog.
The Foundation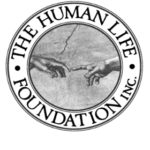 The Human Life Foundation, Inc. is an independent, non-sectarian, not-for-profit 501(c)(3) corporation started in 1975 by the late James P. McFadden to promote and help provide alternatives to abortion. We pursue these goals through educational and charitable means. The Human Life Review, a quarterly journal now in its 41st consecutive year of publication, focuses on abortion while also featuring articles on a variety of other life issues. The Foundation also sponsors a matching grant program which helps support crisis pregnancy centers around the country.
All contributions to the Human Life Foundation are tax deductible.
Staff
10,077 people have visited this page. 1 have visited this page today.