Throughout all of those tumultuous years, no organization has been more admirably attuned to the heartbeat of the pro-life movement than the Human Life Review.

–Edward Short
Why Subscribe to the Human Life Review?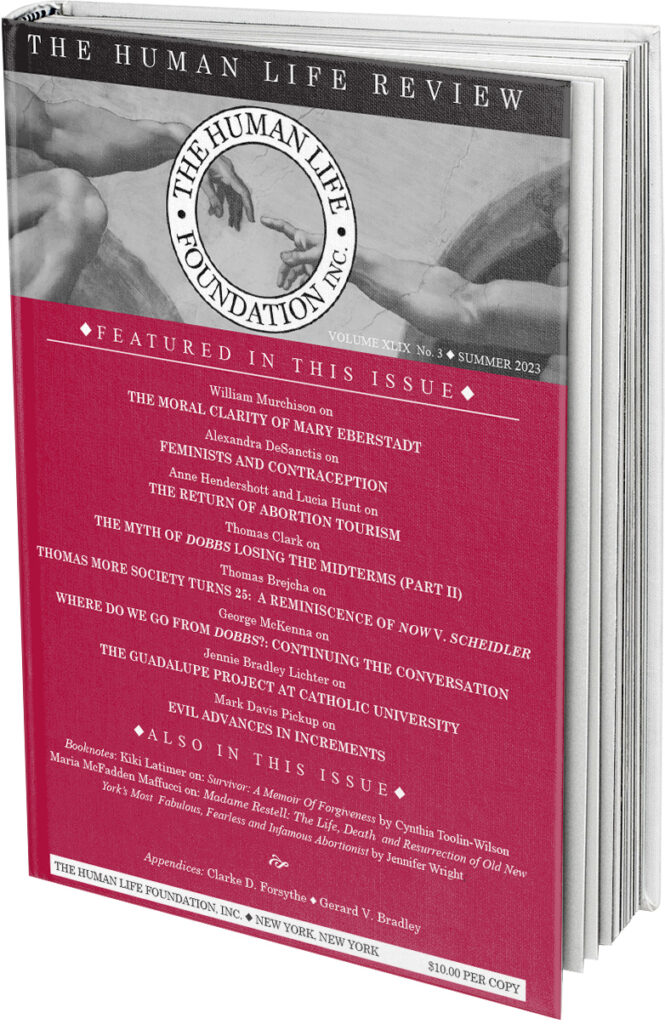 The biggest reason: immediate digital access to every issue we've ever published since 1975.
You will be reminded next year when your subscription expires, and it can renew automatically on your credit card, if you choose! To begin, choose one of the following options:
Print + Digital Subscription (Domestic)
$40.00 / yearSubscribe Now
Print + Digital Subscription (Foreign)
$60.00 / yearSubscribe Now
Digital Only Subscription
$20.00 / yearSubscribe Now
Still need convincing? See below for other reasons!
When you subscribe to the Human Life Review, you'll get:
1.) A balanced mix of great articles focusing on life issues.
When you subscribe to the Human Life Review, you'll learn about the latest in the struggle for the right to life from every angle—legal experts,
politicians, students and professors proposing their new ideas and experiences, writers presenting their essays, and philosophers presenting
treatises and thought experiments. We have even published short fiction pieces and pro-life movie and play reviews.
2.) Comprehensive knowledge of the facts.
The next time a discussion on life issues comes up with family or friends, you will be armed with not only in-depth knowledge on the ins and outs of the legal, political, and philosophical landscape of the right-to-life movement, but new insights on how to win over minds and hearts.

3.) The Latest News.
The Human Life Review is one of the most up-to-date publications in the Right to Life movement. In addition to original articles, we feature an appendix section that reprints the most current and important magazine columns, book reviews, and/or news reports from around the world.
4.) The benefit of almost fifty years' experience and confidence in the most trusted Right-to-Life publication on the planet.
The Human Life Review isn't a start up blog.  We have been publishing since our founder James P. McFadden opened our doors in 1975.  The Human Life Review has been called "THE locus of civilized discussion of the abortion issue," and it is that academic and intellectual discussion for which we are internationally renowned.
5.) Wise, informative, and inspirational words from some of the biggest names in the Right-to-Life Movement.
The Human Life Review has had a star-studded list of contributors, including Hadley Arkes, Mary Ann Glendon, James L. Buckley, John T. Noonan, Paul Greenberg, Cardinal Timothy Dolan,  William McGurn, Nat Hentoff, Helen Alvaré, George McKenna, Wesley Smith and Anne Hendershott. Also, our senior editors William Murchison, Ellen Wilson Fielding, and Mary Meehan. (And in our archives, Clare Boothe Luce, Malcolm Muggeridge, Joseph Sobran, Cardinal John J. O'Connor, Congressman Henry Hyde, Harold O.J. Brown, and Ronald Reagan).
Tina sub ad season after season

11,322 people have visited this page. 1 have visited this page today.