THANK YOU for a Most Successful
Great Defender of Life Dinner
OCTOBER 6, 2022
Honoring 
Gerard Bradley & Pregnancy Help, Inc.
and celebrating the overturn of Roe v. Wade!
ABOUT OUR HONOREES: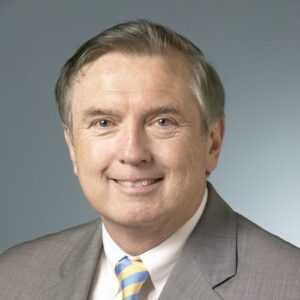 Gerard Bradley has been Professor of Law at the University of Notre Dame since 1992. Before that he taught at the University of Illinois College of Law and, before that, served as an Assistant District Attorney in the Trial Division of the Manhattan District Attorney's Office. For twenty-five years until 2019 Professor Bradley and John Finnis directed at Notre Dame the Natural Law Institute and edited The American Journal of Jurisprudence. He served for many years as the President of the Fellowship of Catholic Scholars as well as Chair of the Federalist Society's Religious Liberties Practice Group. Bradley is a Senior Fellow of the Witherspoon Institute and a Trustee of the James Wilson Institute. Bradley's most recent book is Catholic Social Teaching: A Volume of Scholarly Essays, which he co-edited with Christian Brugger, published by Cambridge University Press.
Pregnancy Help, Inc. has for over two decades offered free and confidential aid to pregnant women in need. Located on West 14th Street in Manhattan, the center's services include free pregnancy testing, consulting pre/postpartum, employment and education planning, adoption referrals, referrals and follow-up for medical care, social services, legal aid and housing, and education pertaining to abstinence, gestational development, and relationship safety.

ALSO SPEAKING:
Anne de La Rochefoucauld Manice, born and educated in France, moved to the United States in 1975 with her husband John, with whom she reared 4 boys and in time welcomed 4 daughters-in-law and 11 grandchildren. In 1986, Manice helped Sylvana Cowden-Guido found Options, the first crisis pregnancy center in Manhattan. She also worked at Expectant Mother Care for four years before founding (with William Powers) Pregnancy Help NYC, which she actively ran and managed both as executive director and board member for 15 years. A former member of the board of the New York Audubon Society, Manice teaches a course on bird identification and nature in New York City public schools. She is also president of the Arboretum des Grandes Bruyères in Ingrannes, France.
Helen Alvaré is The Robert A. Levy Professor of Law and Liberty and Associate Dean for Academic Affairs at George Mason University's Antonin Scalia Law School. An internationally recognized scholar on issues of family law and church/state relations, her latest book is Religious Freedom after the Sexual Revolution, published this fall by Catholic University Press. Alvaré, a popular speaker at academic and professional conferences as well as an accomplished pundit and ABC News consultant, was named a Great Defender of Life by the Human Life Foundation in 2019. She and her late husband Brian Duggan—who was the executive director of the National Committee for a Human Life Amendment until his death this past May—raised three (now adult) children.
Nicole Moore, a native New Yorker, began her pro- life work in 2017 as an online teacher, helping women understand the basics of theology of the body and how to chart their cycles naturally. While doing this work with young women, she also participated (and sometimes) coordinated prayer vigils at local abortion clinics in the New York City area–something that she still does today as the executive director at Pregnancy Help, Inc. After her online work with young women came to a close, Nicole began working with PHI in 2020, just before the pandemic. Since then Nicole and her board have worked to rebuild PHI and make it a safe haven for women in crisis pregnancies. Most of all, Nicole enjoys meeting the women who come to the center as each and every woman has shown her the great gift that women are to the world.
James McLaughlin (Master of Ceremonies) is the Chairman of the Board of the Human Life Foundation. He is a Managing Director of Lincolnshire Management, Inc., a private equity firm headquartered in New York City. Prior to joining Lincolnshire in 2005, he practiced corporate law with leading firms in New York City. Mr. McLaughlin is a graduate of Bucknell University (cum laude) and of the Cornell Law School. He and his wife Joan are the parents of an adult daughter.
951 people have visited this page. 1 have visited this page today.