My eight-year-old daughter Maggie, who has Down syndrome, made her First Confession last month. And therein lies a story.
It had been scheduled rather last minute. Communication with the parish during the past year has been challenging, and with vacation, etc., I lost track of the days. The ceremony was nearly upon us when I realized I didn't know how exactly Maggie, who is mostly nonverbal, was going to make her First Confession. She says "yes" and "no," she knows a bit of sign language, and has a talking device that helps eliminate some frustration, but none of those things seemed likely to help her with this momentous sacrament.
I wasn't quite sure who to discuss this with, so I ended up talking to nearly everyone, beginning with the director of religious education at our church. Unfortunately, she did not quite comprehend the gravity of Maggie's inability to talk and kept assuring me that Maggie would not have to memorize the Act of Contrition because they were going to say it in a group setting ahead of time. That was the least of my worries. Maggie is my 4th child and I have never heard of 2nd graders not having to memorize the Act of Contrition. But I had bigger fish to fry, so I just left that conversation as it was and moved on to our sweet associate pastor, someone Maggie seems to be quite fond of.
Father completely understood my concerns and offered to meet with Maggie ahead of time on the day of the ceremony to walk her through the process. He also assured me that no matter how Maggie did with her First Confession, God knew what was in her heart and it would be a valid sacrament. I also touched based with Maggie's Catholic-school teacher who, knowing Maggie well, completely understood why I wasn't sure how to proceed. She questioned if Maggie really needed to receive the sacrament. I honestly didn't know the answer to that. I was a math major, not a theological scholar. Can special-needs children even sin? Certainly, Maggie knows when she has done something wrong, but I don't believe she understands the concept if sin. I was stumped, but really wanting Maggie to do as many "normal" things as possible, I decided to forge ahead . . .
Which brings us to the appointed day. It started out as a VERY hard day. I knew taking Maggie to the dentist to get cavities filled would be a challenge, but it was really challenging. Maggie wouldn't keep the nose thing on for the nitrous oxide. Then she was not happy because the dentist's TV didn't have "Secret Life of Pets 1," only Secret Life of Pets 2. She settled on Captain Underpants but soon realized it was a TV show and not the movie she had expected.  She did NOT handle that well. By now the dentist was putting topical anesthesia on her gums and getting ready to inject the Novocain. After a few small injections, Maggie was screaming and trying to grab all the instruments from the dentist. Even with me holding her hands, it was no use. The plan now is to take her to the dentist's other office 45 minutes away and put her under general anesthesia (an extra $1,250)—sometime next month when they have availability. I was exhausted and sweating leaving the office, but at least, I thought, Maggie wouldn't be in pain for her First Confession that night.
As I mentioned, our young associate pastor had very kindly offered to meet with Maggie beforehand. Our appointment was at 4:30, and at around 3:45 I told her we were going over to church to show Father the purple confession book she had made at school. If she were good, I said, she could light a candle and we would stop at the bakery on the way home like we do after Sunday Mass. Maggie, however, adamantly insisted she was not going. She wouldn't put on her socks and shoes or her coat, and certainly wasn't about to get into the car. It took three of us—one babysitter, one big sister, and me—to drag her kicking and screaming to the driveway. I stupidly thought she would settle down once inside the car . . .
We pulled into the church parking lot right at 4:30. Father was outside waiting for us in the freezing cold. As I walked around to the passenger side for Maggie, I saw her climb into the back seat, her shoes on the floor of the car. She wasn't going to budge and that was final. Her sister Elizabeth climbed into the back of our SUV to see if Maggie would exit that way, but Maggie was staying put. Maggie didn't want to take the church elevator, she didn't want to light a candle, she didn't care that it was freezing outside—she wasn't getting out of the car to go inside church. Needless to say, I was mortified. Father came over and played peek-a-boo with Maggie and she warmed up (emotionally, not physically—it was 20-something degrees and windy). Father and I chatted, and he spoke to Maggie, which she liked, but she still wasn't moving. In the end, Father and I decided that if things continued on this path, she was not going to make it to First Confession tonight, and we should try to get together early on Saturday, as she tends to be better in the morning.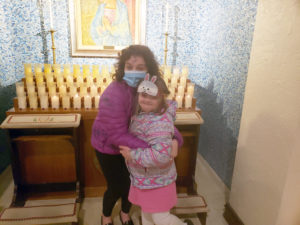 I came home absolutely dejected and emotionally exhausted. Why was I doing this? Was it for Maggie? Or was it for me? If she really can't sin, why was I bothering to take her to confession? What does God want me to do? Life is sometimes just plain hard when you don't see a purpose to all of your efforts. At that point, I put everything into the Blessed Mother's hands and told her that she had to take care of this. If Maggie was meant to make her First Confession that evening she would have to make it happen. I was pretty much done.
After we fed Maggie dinner, I asked her if she wanted to go back to the church. Her friends RJ and Teddy would be there, and we would see Father again. "Yeah, yeah. Yeah, yeah." She genuinely seemed like she wanted to go, which was surprising to me because I was pretty sure I didn't want to go. I told her she had to be good and let the babysitter give her a bath first. As usual, Maggie was not into taking a bath and really gave both the sitter and me a hard time about getting into the tub. After that, I was confident we were in for the night and went downstairs to fix dinner for the other kids. However, 20 minutes later, Maggie came down from her bath, all dressed to go to church. She put on her coat, got her bunny mask, and even made sure she had her talking device and her purple book. I kept waiting for her to change her mind.
Father had told us not to worry about getting there at 6:30 for the group talk so we arrived a little before 7:00. Once inside the church, we went over and sat between Teddy and RJ. Maggie, so excited to be there with her classmates, was grinning from ear to ear. Even though I had told the religious education director that Maggie was working with the associate pastor and it would be best if she went to him for confession, she put Maggie and her friends in the pastor's line. As my kids would say, my inner "Karen" emerged. I went over and explained who I was and asked her if Maggie could be moved to the other line. Of course she said yes, but Maggie wouldn't go anywhere without her buddies, so she told me I could move all three kids. I felt bad about the disruption, but I marched the three of them to the other side of the church and into the other line. I asked Teddy to tell Father that Maggie was behind him, so Father would be prepared. Then I went back to my pew.
Elizabeth and I waited and prayed. We watched as the three kids stood in line, Maggie beaming and waving to us. I've never seen someone so happy to be in line for confession! We watched RJ go into the chapel and come out, and watched Teddy go in and come out. Then we watched Maggie hold the teacher's hand as she went into the chapel. After that we waited . . . and waited . . . and waited. I couldn't imagine what was taking so long and hoped that Maggie hadn't decided that she really liked the chapel and wasn't going to leave it. Eventually, though, she came out, still smiling from ear to ear, and gave me the "thumbs up" sign.
I had told Maggie she could light a candle, so Elizabeth took her over to a side altar and said prayers with her while I spoke with the pastor. After the girls were done, we went back to the pew to gather our belongings. The religious education director hurried over and told me how sweet Maggie was and wouldn't it be great if all of us had that beautiful happiness that she has. As we were leaving, the associate pastor came running across the church calling my name. He thanked me profusely for bringing Maggie tonight. He told me it was truly an honor to hear her confession and that he was inspired by how much she understood and how well she did. He said because there was a screen (no face-to-face during the pandemic), Maggie said "no" very loudly and clearly to his questions, but for "yes" she knocked on the wood of the kneeler so he could hear.  I managed not to break down in tears until we left the church; needless to say, I was a crying mess in the parking lot. Twelve-year-old Elizabeth was mortified.
So, yes, it was a terribly hard, frustrating, exhausting, exasperating day, but it was also one of the best, most rewarding, and edifying days I have ever had. It was one of those days that reminds you there is a God, He loves us very much, and He is in charge. In reflecting on the day later that evening over a glass of wine, I had a small epiphany—I don't think God wanted Maggie at the ceremony to confess her sins. I think He wanted her there for the rest of us, to give us a small glimpse of what true happiness is. I believe that's why God sends us these blessed angels. Not for us to teach them how to get along in our world, but for them to give us a vision of the next world, full of true love, pure love, God's love.
800 people have visited this page. 1 have visited this page today.
Social Share