This is the story of Ernest Trice, who entered my life in a way I can only ascribe to Divine Providence. I am a volunteer who visits elderly and disabled persons in nursing homes. Several years ago I asked a staff member at one of these homes if they had anyone who could use a visitor. She assured me that all of the patients were well cared for and had plenty of family or friends. I was about to say "thank you" and leave when a woman who was not a regular employee–she came in only once a month–interrupted and asked, "What about, Ernest?" The woman I had been speaking with shrugged her shoulders and said, "Maybe. Maybe, Ernest." And that is how I got my toe in the door with Ernest Trice.
At first, our meetings were awkward. He was kind of a loner and very suspicious of me. He didn't understand what I was doing there. And I, groping along in the hope of establishing a relationship, was beginning to have doubts. Ernest and I had little in common. He had no use for sports or nature, both of which I enjoyed. He watched a lot of TV and only read newspapers. I watched very little TV and liked books. After a month of strained weekly visits, I talked to an assistant activity director about quitting.
She told me that from time to time Ernest would unload on her. He really did need someone to talk to, she said, and in time he would open up to me. Part of the problem, she thought, was that I was a male. His father died when he was two and an alcoholic step-father who came along later had been abusive. Interactions with other males such as uncles and cousins had been sporadic.
Knowing it might take a while, I kept up my weekly visits. Here and there Ernest would disclose little bits of information about his childhood. He was born during the Great Depression, in 1933. His only brother had died in infancy. They made fun of him at school, he said, because he didn't talk right and he needed speech therapy. He worked in a bowling alley for a while where he did a good job. When he had his stroke he was alone in his apartment and had crawled out to a landing where someone had come along and helped him. Later he got into rehabilitation and a nursing home under the guidance of an aunt. His mother had passed away before his stroke.
Ernest was in many ways a survivor. He wore the scars of having lost both family and physical independence. His fondness for watching westerns on television made sense. The good guys were mostly father figures who in their own way helped other people out. He also spent hours watching sitcoms, mostly from that golden age of slapstick with stars such as Lucille Ball, Abbott and Costello, Carol Burnett, and Red Skelton. Apparently as a young boy he had been something of a jokester. These shows made him laugh and had a kind of healing effect on him. He would often watch them alone but as I became more familiar he would invite me to stay and join him. I never did develop the kind of passion he had for them, but it was a way of getting into his world.
It took months to build up a rapport but eventually Ernest began to share more about his life. He showed me pictures from his childhood and of relatives who had died; he also pointed out mementos in his room. He told me about his diabetes and his stroke and his rehab sessions. After his stroke he had learned to walk in a kind of shuffle with a wobble to it. He could do this for a few minutes and then he needed to stop; often he would need to sit down. The right side of his body was in control and the left was more or less along for the ride. Yet he was fiercely independent and satisfied that he had some power of movement.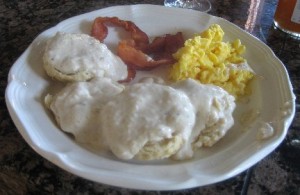 Food was a major part of Ernest's life. He relished a Texas breakfast of orange juice, eggs, sausage and biscuits and gravy. The rest of his meals were tempered to stabilize his blood sugar. He ate them sparingly and described them as lacking in taste. It was a treat to go out somewhere where he could get some of his favorite snacks. His cousin Danny, who visited now and then, could be enlisted to take him to a burger place or a Dairy Queen for a milk shake. As I became his friend I was called upon more and more for these trips.
Whataburger Burger is a Texas chain for fast food but its tempo is slower than larger chains like McDonalds. It suited Ernest just fine. There were pictures of Elvis Presley and James Dean on the wall and a replica of a 1950's Chevy. Some dudes came in sporting Stetson hats and cowboys boots. The women along with them wore denim pants or skirts. Ernest always ordered the same thing—a hamburger with mayonnaise on a bun. Occasionally a new employee confused the ritual by adding things like pickles, onions and/or ketchup. With his right hand Ernest would weed these out as his face showed signs of irritation. "Didn't get it right," he would say. At Dairy Queen there would be a similar scene in ordering a vanilla milkshake which was so thick he had to eat it with a long plastic spoon. As he was supposed to watch his blood sugar these hops were limited to once or twice a month.
The members of Ernest's immediate family had died a number of years ago and his remaining relatives were cousins who visited when they could. Sally, his first cousin and main caretaker, did a masterful job of coordinating family reunions once or twice a year. But she lived two hours away and was needed in her own family environment most of the time. So she had been very supportive of my plan to visit Ernest every week. I usually came about the same time on the same day. Once in a while, though, demands of family and home led me to change my schedule. "You were late," or "Where were you?" he would ask. I would explain but the vagaries of modern life beyond the nursing home were kind of a mystery to Ernest. One day, after several years of my stopping by, he announced: "You're the only one I talk to." "Whoa," I replied, reminding him of the staff—nurses, housekeepers, the social worker, the van driver, and many others he had interactions with during the week. Then he clarified his statement: I was the only one he talked to at length, he said. I felt honored to know I had become a friend.
Grocery shopping was an adventure for both of us. Ernest loved to get into the electric shopping cart and glide down the aisles. He pointed to the articles he wanted and I'd scoop them up and plop them into the basket. Certain brands were his favorites and usually substitutes would not be acceptable. There was a sense of empowerment in the grocery store. He was there to buy the goods and he was in control. At the cashier he would take money from his wallet and pay. After getting seated in the car for the return to the nursing home Ernest would reminisce about earlier days when he was more mobile. I'd try to listen as I threaded through the traffic. As we entered the building with his purchases he'd greet members of the staff and other residents. Clearly we were returning from a mission.
And there were other shopping expeditions. One time Earnest wanted to buy a new chair. This took several trips before he finally made a choice. But I think the extra work it took to pick it out gave it more value to him. Truly, when we went out shopping he was king for the day. He decided where to go and what to buy. His money was limited but even here he stretched the issue at times by trying out things he could not afford. Ernest liked to watch old movies on TV where wealthy persons made decisions with a flick of the hand. On these trips he could play that role a bit.
Ernest had a way with certain women. Sometimes at the checkout line he would share some of his experiences as a young man and trigger a motherly emotion in the cashier. She would sigh or emit a light hum and offer a sweet smile. There was something innocent and trusting about it. A woman who handled his finances later said, "He didn't have a mean bone in his body." One day, he told a woman who was bringing flowers into the nursing home that his late mother had worked in a flower shop. He related his story with such tenderness that the woman stopped dead in her tracks to listen. On another occasion, in a pharmacy, we had enlisted help from a female employee. As Ernest described his needs to her, she focused on him like a concerned parent. As a consumer, Ernest always expected the kind of bell-hop service he saw in old movies. Though some store employees dodged or ignored us, and others looked as if we carried a mysterious disease they might catch if they got too close, in almost every place we shopped we found at least one person who was receptive to our needs.
In his last years Ernest was in and out of the hospital. Sometimes his blood sugar was too high. Or his blood pressure. Other times he was there because he had suffered a fall. I could see that his health was deteriorating. His cousin Sally, always aware of his needs, also sensed he was getting weaker. An eightieth birthday party was planned at the nursing home. All of his relatives were invited and just about all of them came. He beamed with a youthful smile. Ernest, who had been sick as an infant, had outlived all members of his immediate family. A cake was shared and pictures were taken. Just a few weeks later, Ernest had another fall, followed by another stroke. He was off to the hospital. Soon he was gone. His kinfolk had a private graveside ceremony where they paid tribute to their cousin. They extolled his honesty and innocence. They thanked me for being his friend.
At times, people thank me for having been a friend to Ernest. But in the eight years I knew him, he really did more for me than I did for him. Sure I had to commit to visiting him and I had to learn patience. After all I was there to be a listener. But making friends is not easy, especially for two men in their seventies. Spending time with me was hard for Ernest considering the paucity of male figures in his life. Then there was the fact that I could leave the nursing home and he could not. I had a wife and children and he did not. I was reasonably healthy and in control of my body. He was not. But like most volunteers, I have a need to be needed. And Ernest, with grace and good humor, more than fulfilled that need in me.
241 people have visited this page. 1 have visited this page today.
Social Share