NEW: 40th anniversary T-Shirts!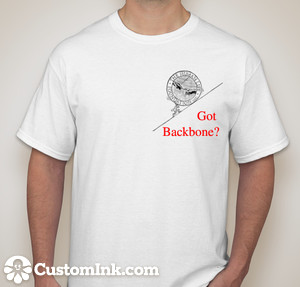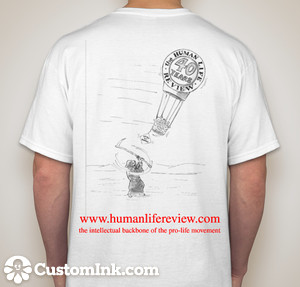 Celebrate our 40th anniversary in style! This 100% cotton high-quality shirt, featuring original, commissioned cartoons by Nick Downes,  was sported by some at the March for Life this past January 22nd. Get yours today!
Low price includes shipping and processing fees!
BOOKS 
In addition to publishing the hard-hitting quarterly journal Human Life Review, our foundation also offers these unique and invaluable anthologies:
Buy both The Debate Since Roe AND The Reach of Roe, and get them as a set for $24.95!

 

The Reach of Roe, our latest collection, is a "chronicle of the suppression of truth and the unravelling of civilized behavior."

A companion volume to The Debate Since Roe—a collection of essays on abortion culled from the Human Life Review's 40-year-old archive—The Reach of Roe: Eugenics, Euthanasia, and Other Assaults on the Dignity of Human Life (1975-2013) features essays by John Noonan, Lino Graglia, Harold O.J. Brown, Rita Marker, John Muggeridge, Ellen Wilson Fielding, Maria McFadden, Wesley J. Smith, John Finnis, David Klinghoffer, and a host of other writers committed to telling the truth.

Another Line Crossed by Paul Greenberg

A collection of the Pulitzer Prize winning journalist's columns on life and death in the United States: 1993-2011. Mr. Greenberg, our Great Defender of Life 2011, is a longtime editorial-page editor of the Arkansas Democrat-Gazette. His distinctive work has appeared in the Human Life Review since he became a convert to the pro-life cause. $7.95 per copy.

 
Criss-Cross: Democrats, Republicans, and Abortion (pamphlet) by George McKenna

"Suppose this: suppose a politically savvy Rip Van Winkle in, say, 1965, perceiving that a movement to legalize abortion was gaining strength in the country, were asked, "Which of the two major political parties will eventually identify with that movement?"

George McKenna, professor Emeritus of Political Science at City College of the City University of New York, asks this question of us and explores the possible, fascinating answers in this powerful essay, reprinted from the Summer/Fall 2006 issue of the Human Life Review. $5.00 per copy.

The Debate Since Roe features essays by doctors and lawyers, politicians and political scientists, philosophers, clerics, and journalists. A perfect reader for anyone who has sat around the kitchen table (or the dorm room) defending the sanctity of human life while wishing he or she had greater command of the facts and arguments. $14.95 per copy.
Having Her Say: Read 20 essays on life issues almost exclusively from the perspective of women, chronicling the changing attitudes and technologies of over 25 years. Authors include Clare Boothe Luce, Mary Meehan, and Kathryn Jean Lopez. $10.95 per copy.
Insisting on Life: Nat Hentoff has often used his enormous journalistic talent to defend the right to life of the unborn, the newly born, the frail elderly and the disabled. We are delighted to offer this collection of his syndicated columns and other works, which appeared in the Human Life Review from 1984 through 2005. $10.95 per copy.
Bulk discounts are available: Call 212-685-5210 or e-mail humanlifereview@verizon.net for details.
18,029 people have visited this page. 1 have visited this page today.
Social Share